Transformation of a garage into a child psychiatrist's office Like a tree house, the practice rises above the garage, which is treated as a filtered transparency to reveal the garden and the family life of the house. The spaces are meant as sequences contributing to the therapeutic process. From the pavement, the opening of the door, the crossing of the stairs, the waiting room, to the office, each stage is significant of a moment of separation from the child's daily life, to move towards the moment of expression and perhaps, the unravelling of the complexity. The points of view and the inside-out views are carried on the scale of the child and the adult, as supports for interaction between the two worlds. In an extreme paradox, the toilet, the place where anxiety is physically poured out or where a moment of stress is released, finds its place at the centre of the different spaces. Instead of treating it as a closed, isolated corner, it is enthroned in a bath of light radiating from all the peripheral spaces.
Transformation d'un garage en cabinet de pédopsychiatre Comme une cabane dans les arbres, le cabinet se hisse au-dessus du garage traité en transparence filtrée pour laisser deviner le jardin et la vie familiale de l'habitation. Les espaces sont compris comme des séquences contribuant au processus thérapeutique. Depuis le trottoir, l'ouverture de la porte, le franchissement de l'escalier, la salle d'attente, jusqu'au cabinet, chaque étape est significative d'un moment de séparation par rapport à la vie quotidienne de l'enfant, pour aller vers le moment de l'expression et peut-être, du dénouement de la complexité. Les points de vue et regards intérieur-extérieur sont portés à l'échelle de l'enfant et de l'adulte, comme des supports d'interaction entre les deux mondes. Paradoxe extrême, le cabinet de toilette, lieu d'épanchement physique de l'angoisse ou de la sortie d'un moment de stress, trouve sa place au centre des différents espaces. Au lieu de le traiter comme un coin reclus, fermé, isolé, il trône dans un bain de lumière irradiant tous les espaces périphériques.
Verbouwing van een garage tot een kantoor voor kinderpsychiaters Als een boomhut verheft de praktijk zich boven de garage, die als een transparante filter wordt behandeld om de tuin en het gezinsleven van het huis te onthullen. De ruimten worden behandeld als sequenties die bijdragen tot het therapeutisch proces. Vanaf de stoep, het openen van de deur, het oversteken van de trap, de wachtkamer, naar het kantoor, is elke stap een moment van afscheiding van het dagelijkse leven van het kind, op weg naar het moment van expressie en misschien, van de ontknoping van de complexiteit. De gezichtspunten en de binnen-perspectieven worden gedragen op de schaal van het kind en de volwassene, als dragers van de interactie tussen de twee werelden. In een extreme paradox vindt het toilet, een plaats waar angst fysiek wordt uitgegoten of waar een moment van stress wordt losgelaten, zijn plaats in het centrum van de verschillende ruimten. In plaats van het als een teruggetrokken, gesloten, geïsoleerd hoekje te beschouwen, troont het in een bad van licht dat alle omringende ruimten bestraalt.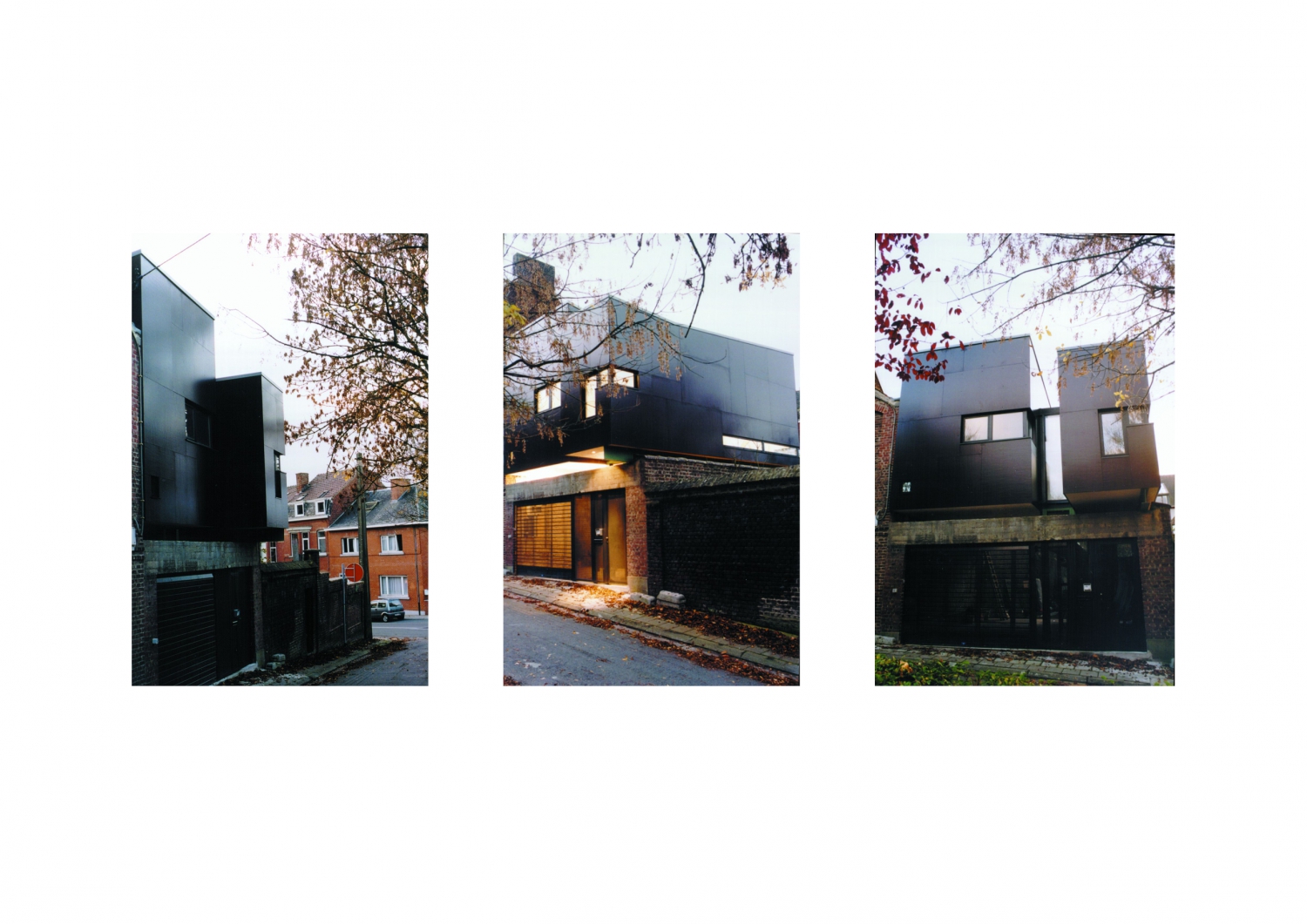 Team Escaut
INES CAMACHO - THIERRY DECUYPERE - JEAN LECLERC - SINAN LOGIE
More
STRUCTURE
LUC DELVAUX - SEBASTIEN CRUYT - FREDERIC SALIEZ