Coastline Interpretation Centre
Dans un volume compact et élancé, le projet associe au parcours du visiteur des vues ponctuelles et élargies vers le grand paysage des marais et de l'horizon océanique de la baie de l'Aiguillon. Le centre d'interprétation s'articule autour d'une exposition permanente abordant la question du climat et de la conscience environnementale en lien à la tempête Xynthia survenue en 2010, à l'endroit même où s'inscrit le projet.
In een compact en slank volume worden punctuele en weidse zichten op het landschap van moerassen en de horizon van de baai van Aiguillon aan het parcours van de bezoeker gekoppeld. Het interpretatiecentrum is opgebouwd rondom een permanente tentoonstelling dat het gegeven van de klimaatswijziging en van het milieubewustzijn benadert in verband met de storm Xynthia dat plaatsvond in 2010, op dezelfde plaats waar het project zich ontvouwt.
In a compact and slender volume, the project links to the route of the visitor punctual and panoramic views on the landscape of marshes and the ocean horizon of the bay of Aiguillon. The interpretation center is built up around a permanent exhibition that approaches the climate issue and the environmental awareness in relation to the strom Xynthia that took place in 2010, in the same place where the project gets build.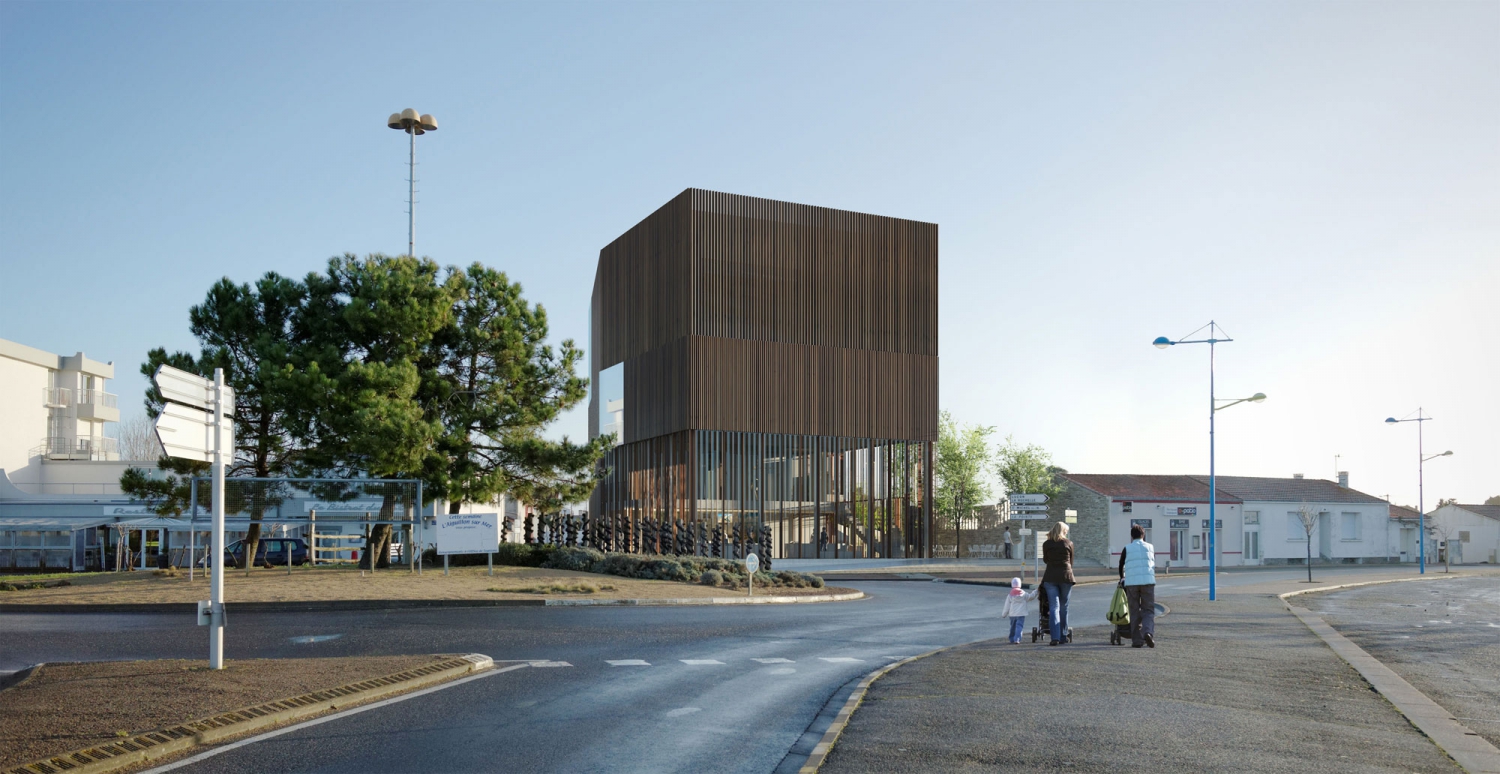 Program
Memorial interpretation center of the coastline - exhibition spaces, forum, belevedere and office spaces
Location
L'aiguillon sur mer - France
Duration
2014 - Studies in progress
Client
Région des Pays de la Loire
Surfaces
gross : 2.160m² / net : 1.910m² / net (fr SDP) : 1.700m²
Budget (excl vat)
3.890.000 € (arch.) / 750.000 € (sceno)/ 250.000 € (lands.)
Team Escaut
David Crambert -Catherine Dohmen (partners in charge) - Ralf Vercruysen
More
Landscape
D'ICI LA PAYSAGISTES